Submitting your podcast to various directories is an important step as your podcast needs to be available to listeners in the right place. When you are submitting your podcast to Indian directories, make sure that you submit it to JioSaavn.
While you can reach global audiences from other platforms, JioSaavn will help you in reaching the Indian audience. With 100M+ users on the platform, you can easily create your own audience pool for your podcast show.
To help you with submitting your podcast to JioSaavn, we've created this step by step guide that will walk you through the entire submission process along with things to avoid so that your podcast gets approved right away.
Step 1: Create your RSS feed link
To submit your podcast to JioSaavn's directory, you will have to first create your podcast RSS feed link. If you haven't created one yet, then you can create your RSS feed link on Hubhopper Studio for free. Once you go live with your podcast, your RSS feed link will appear in your Hubhopper studio dashboard.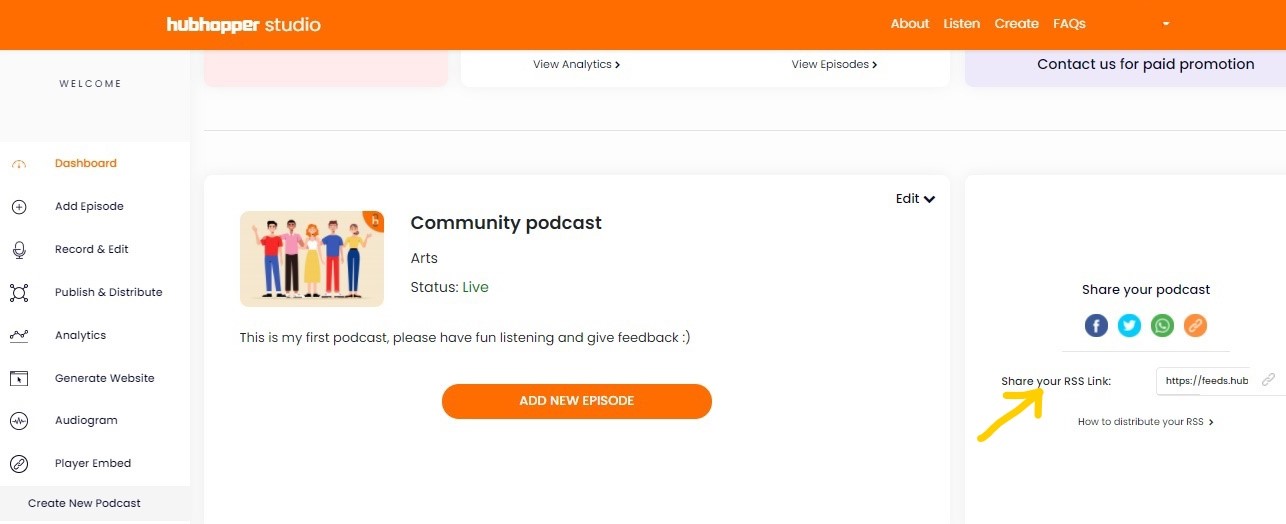 Step 2: Meet the requirements
Before submitting your podcast to JioSaavn, ensure that you meet the following requirements of the platform:
You must own the rights to the RSS Feed.

The platform only supports ISO/IEC MPEG-1 Part 3 (MP3) audio files with bit rates between 96 and 320 Kbps. A maximum length of 200 MB (roughly 83 minutes @ 320 Kbps) is recommended. Your audio file should not be in .m4a format as the platform doesn't support it.

Podcast and episode images need to have a fully squared (1:1) aspect ratio with a minimum of 500×500 size. The file format should be either PNG or JPEG.


The podcast name and the episode name should not exceed 20 characters so that it's fully visible to the users.

Make sure you have access to the email ID linked to your RSS Feed.

Intermediate episodes in any of the seasons should not be missing and the sequence of your episodes should be proper.

Your RSS feed must contain appropriate tags. The show level mandatory tags are title, description, cover art, author, email, and explicit. The episode level mandatory tags are title, URL, guid, duration, and image.
Step 3: Register with JioSaavn and verify your email
Register with JioSaavn by creating an account. All you need is your full name and email address to get started with the registration.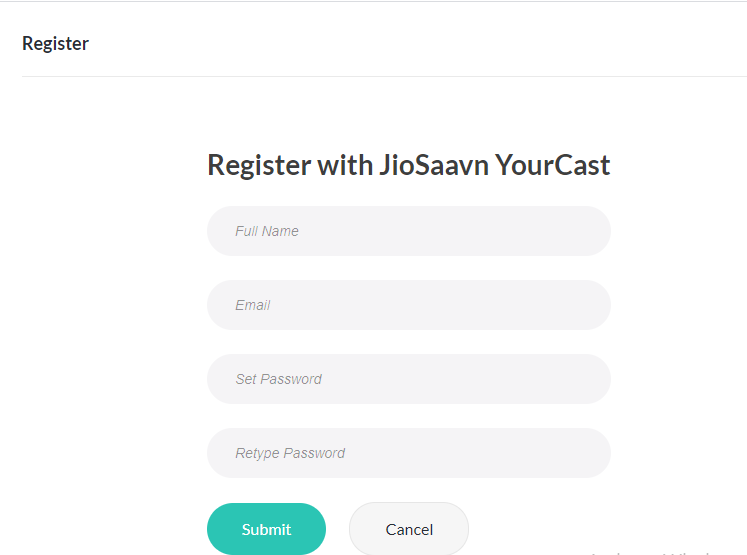 Next, you will have to verify your registered email address. JioSaavn will send you a verification email where you will have to follow the link in the message to verify your account and complete the registration.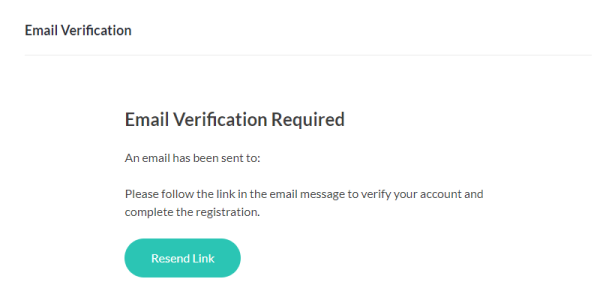 Step 4: Agree to the Terms and Conditions
After completing the registration, you will have to accept the terms and conditions and enter your legal name that the contract is bound with.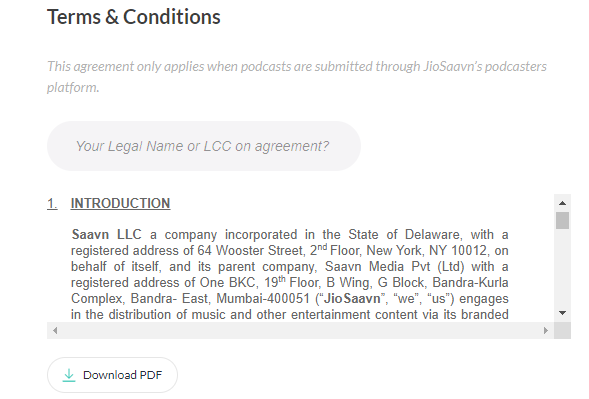 Step 5: Enter RSS feed link
The next step is an important one in the entire podcast submission process i.e. adding your RSS feed link to the directory. RSS feed contains all the information about your podcast shows and episodes like title, cover art, description, and more.
The link gets updated whenever you make any changes like adding a new episode. The directories monitor the link and automatically share the updated information. In the specified box, enter your RSS feed link and click on "Continue".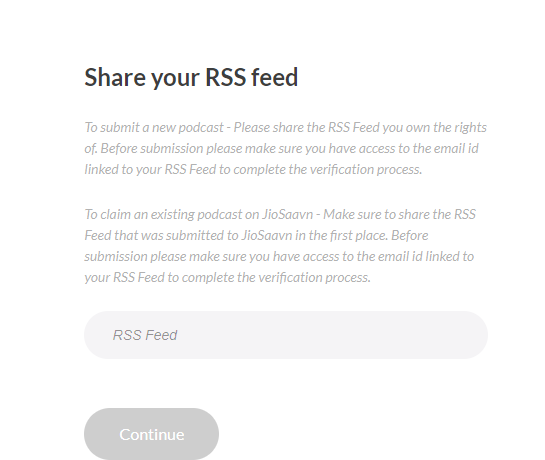 Step 6: Enter additional details
The next step requires you to fill in additional details about your podcast like primary language, category name of your podcast, hosting provider, and more.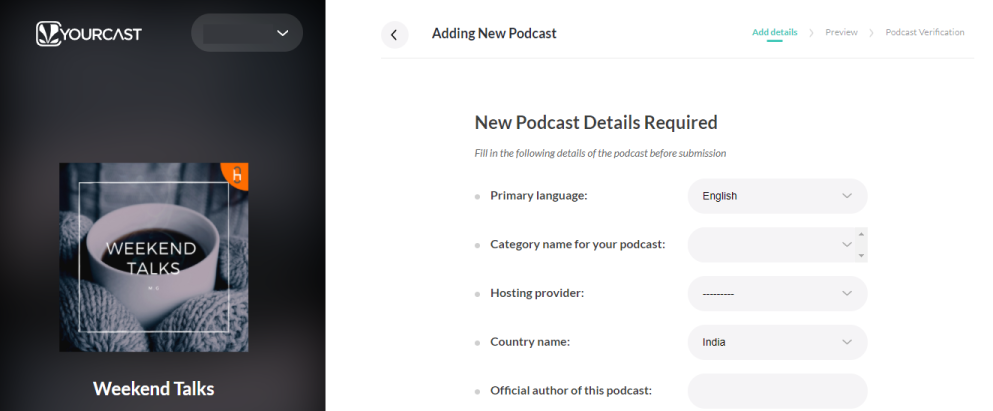 Step 7: Enter OTP
After submitting the details, JioSaavn will send you a six-digit OTP on the email address linked with your RSS feed. The code is sent to verify that you are the owner of the podcast being submitted. To avoid any issues, make sure that you submit the RSS feed only after updating the email accessible to you. Enter the OTP in the input field and submit it.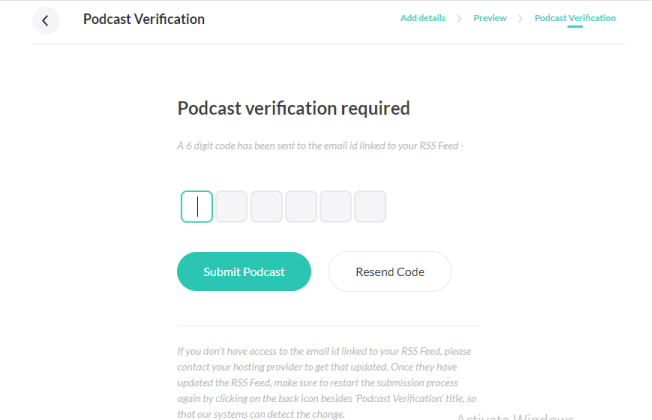 That's it! Your podcast is now submitted for an internal review on JioSaavn. It usually takes 4-5 business days for a podcast to get reviewed.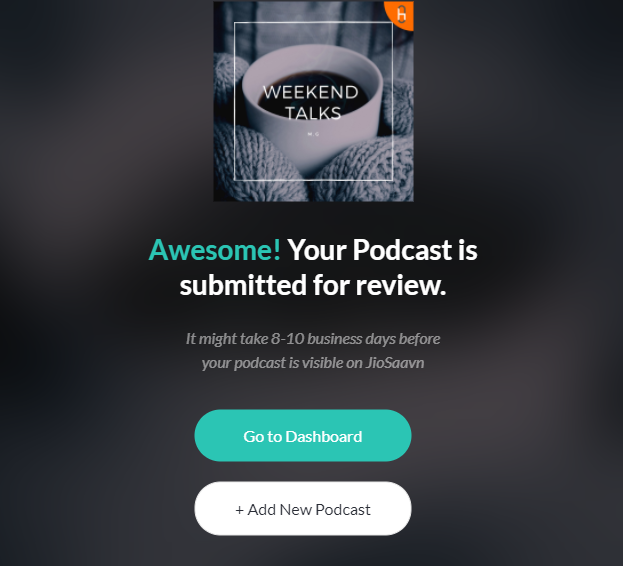 You will be duly notified about your podcast's review status. If your podcast is approved then it'll go live within 2-3 days and you can find the JioSaavn link to your podcast from the top right corner of the show page of JioSaavn. Click on the three dots and the "Copy link" option will appear.
If in case your podcast gets rejected then it might be because it's similar to an existing podcast that is already published on JioSaavn or your podcast content wasn't aligned with the content guidelines of JioSaavn. To resolve the issue, you can write to the JioSaavn podcast support team at podcastsupport@jiosaavn.com including your name, RSS feed, and hosting provider.