Hubhopper's analytics dashboard with its straightforward visual presentation and organized layout, helps you understand your podcast analytics (in much less time than it takes to brew your morning tea!).
So if you're a podcaster looking for a one-stop shop for podcast analytics and hosting integrations, Hubhopper is the platform for you. Let's dive in and see how this tool is going to help you grow your podcast!
How do analytics help in podcast growth?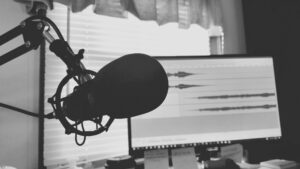 Analytics play a crucial role in podcast growth by providing valuable insights and data that can inform decision-making and strategy development. It helps podcasters get in-depth knowledge about how their podcast is performing at certain points.
It provides podcasters with data on the performance of their episodes, including total downloads, gross listens, and unique listens. These metrics help podcasters assess the success of their episodes, identify trends, and evaluate the impact of promotional efforts.
Creators can get actionable data to understand their audience, improve content, evaluate performance, optimize marketing efforts, and explore monetization opportunities. By leveraging these insights, they can make informed decisions to drive the growth and success of their podcast.
So, what does the dashboard offer?
Bringing the whole game of analytics down to a single dashboard is Hubhopper's claim to fame. As soon as you log in, you'll be welcomed by a comprehensive overview of your performance, including total streams, gross listens, episode-wise performance, and global listenership statistics.
It also displays the exact episode information and how each one has performed. You can view gross listens, time duration, and even get into the nitty-gritty of each episode's audience makeup. Plus, if you want to check out how well your podcast is performing across specific countries or cities —you can do that too! You can easily pinpoint geographic outlier trends—which can help inform strategy and content creation moving forward.
Using this data, you can make informed decisions about your content and audience behavior. You can know which episodes are performing better than others and explore why that is so. This information can be used to optimize future content in order to engage the audience more efficiently.
So if you ever need to answer the question: 'How'd my podcast perform this month?' – Hubhopper's got your back! With an easy-to-navigate dashboard and key metrics detailed out; now you have all the data at your fingertips to track progress at any given time. 
Understanding the metrics
With Hubhopper's analytical dashboard, you can get comprehensive insights into a number of metrics such as Gross listens, Total streams/downloads, and unique listens. Confused, what do these mean? No worries, we are here to explain to you everything you need to know about these metrics.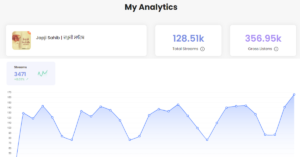 Gross Listens
It's great to know that people are listening to and engaging with your podcasts. Gross listens are the total number of podcast plays, it shows the total number of times people pressed play on an episode. It helps you evaluate the overall performance and gauge the level of interest among your audience.
Total Streams/Downloads
Total Streams are the total unique listens in a day that lasts for at least 60 seconds. 
Note: If a listener listens to your episode (plays and listens to it for 60 seconds) multiple times within 24 hours, then it'll count as 1 download/stream only. 
You can compare download/stream figures to understand which episodes resonate the most with your audience, identify trends, and make data-driven decisions regarding future content.
As per industry standards, such a metric is defined as a 'Download', Even though the literal meaning of the word does not reflect the same. Hence, to simplify things for our users, we at Hubhopper term this metric 'Download' as 'Stream' on our analytical dashboard.
Unique Listens
These are the total of each individual that has listened to your podcast. It represents the number of distinct individuals who have listened to your podcast episodes, eliminating duplicates from multiple downloads or plays by the same person.
Leverage different metrics to improve performance
So, are listens the only metric provided by Hubhopper? Of course not! Through the Hubhopper Analytics dashboard, you get insights into more information including the top hours people listen to your podcast, the top locations of your listeners, and episode-wise analysis of your podcast.
Episode Downloads/Streams
You can get insights into the number of downloads each of your episodes have received. Through the dashboard, you can know which episodes received the most downloads and hence you can decide what type of content is working best for your podcast.

Top Hours
This metric helps you to know at what time your podcast has the most listens & on which days of the week. With the help of this metric, you would be able to know your peak hours and you can publish your podcast at that time. This will help you take your podcast out in the market when it is most crowded.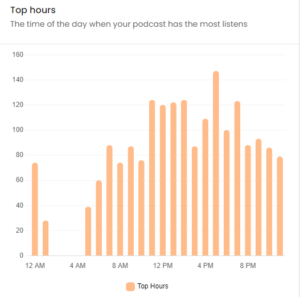 Location 
You can know where most of your listeners are coming from which includes the top locations of your podcast listeners, whether that's country or city-wise. Getting an insight into who is tuning into your podcasts will help you understand what content they want more of. This could even help you create targeted campaigns optimized for particular segments or demographics.
And with this data at hand, you can adjust your approach to podcasting according to what resonates best with your audience. So go ahead and track that performance now – it could make all the difference to the success of your podcast! 
Master using advanced analytics
Getting an understanding of your audience in more depth will help you create and tailor content accordingly. Through the advanced analytics provided to you by Hubhopper's Pro Plan, you can get an in-depth analysis of your audience and benefit as compared to other creators.
Advanced analytics tools provide more detailed audience insights, going beyond basic demographic data. You can analyze listener behavior, preferences, and engagement patterns to understand what drives audience interest and tailor your content accordingly. 
Device Distribution
It includes the breakdown of all the devices your podcast was consumed on. You can know whether people are consuming your content on mobile devices or laptops or tablets. This information can help you tailor your content, marketing strategies, and monetization efforts to better engage and cater to your target audience. It also gives you an indication of your listener consumption patterns and a glimpse into the demographics.

Operating Systems
You can get an insight into the operating systems used by your audience, and know whether most of your users are Android or ios users. Knowing which operating systems your audience prefers allows you to optimize your podcast's user experience while getting a better understanding of the financial aspects of your audience. It also provides insights on how to further target your podcast marketing better.
Podcast Players
Hubhopper distributes your podcast to over 35 different platforms. If you're curious about its performance, you may wonder on which platforms it is performing best. You can get an insight into which platforms are bringing in more listeners to your podcast. Understanding the platforms that generate the most listens allows you to focus your distribution and marketing efforts. The user demographics of the podcast platform also give some indication of your podcast audience.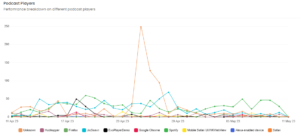 Third-party Tracking Prefix
You can add a  third-party tracking prefix to your podcast URL to get insights into the analytics provided by analytics servers like Podtrac and Chartable. This allows you to have another analytical dashboard through the third-party tool to view certain data points that the Hubhopper analytical dashboard does not provide. It also allows you to compare your podcast with others in terms of performance.
If you already have not enrolled for Hubhopper Pro Plan, try the Hubhopper Pro Plan 14-day free trial to access advanced podcast analytics. With dashboard analytics, you can better understand content trends and align creative decisions with audience feedback.  So go on—analyze away!
Conclusion
Podcasting may be the wave of the future, but don't let it drown you. Take the plunge into Hubhopper's analytics dashboard and come out stronger than ever. Get the info you need to make sure your podcast performance is as strong as it should be—you have all the tools you need, so no excuses! Make the most of your podcasting dreams and see them come true with Hubhopper's analytics dashboard to give you the edge over the competition.