Chasing Pods was India's first and largest podcasting gathering, where creators from different fields and well-known personalities came together to celebrate podcasting and share ideas. Organized by Hubhopper in collaboration with Good Creator Co., powered by Amazon Music, Chasing Pods 2022 held on December 17, 2022, included panels, live performances, workshops, and more.
If you're curious to hear what went down at Chasing Pods, here's a look into how it all unfolded. From panel discussions with some of the most prolific creators to a sound quiz that took you on a journey through podcast soundscapes, this event was meant to spark conversations that go beyond the norm.
The atmosphere was electric as well—the venue came alive with cheering as accomplished podcasters spoke about their experiences, while attendees enjoyed some fun and engaging activities together. By the end of it all, everyone had come together in appreciation of the art form that is podcasting!
Deep dive into the blog to know more about the fun experience!
A Glimpse of the "Chasing Pod"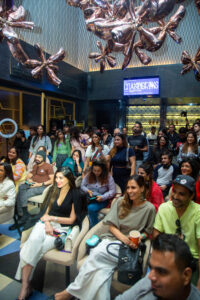 The "Chasing Pods" event was one of India's biggest podcasting events where all podcasters and people from various fields gathered together to celebrate podcasting. The theme of the event was "Come a listener, Leave a Podcaster".  After all, it was like a big podcasting buffet offering everything from tips and tricks on producing great content to engaging activities that also included an unfiltered interview with renowned Bollywood actress Neha Dhupia, who is also the host of the #NoFilterNeha podcast.
Chasing Pods brought together some of the biggest names in the podcasting world, making it an event to remember. Among the many experts attending the meet, there was Esha Gupta, Sonal Agrawal, Zayed Khan, Abhishek Bajaj, Mohit Malhotra, Chef Vicky Ratnani, Takesh Singh, Koel Puri, Prabhat Choudhary, Sonal Agarwal, Kritikka Avasthi, Nitin Mirani, Moose Jattana, Vivek Dhadha, Rizvan Bachav, Yogita Yana, Aarti Khurana, Deepti Chand, Nishka Lulla, Karan Tacker, Vishal Pandey, Rohini Iyer, Poonam Pandey, Ayushman Sinha, Nirmika, and Donal Bisht, who also shared their wisdom and knowledge for the benefit of young talent.
The event was attended by many who found it very informative and rewarding. They gained valuable insight into the podcasting industry, learned the importance of understanding their audience, and became professionals in a short time with all the tools taught during the event.
In addition to listening to helpful advice and directions from various panelists, attendees also had fun participating in special activities such as the "Speed Pod" game—nothing like a little competition thrown in to keep spirits high!
Partnership Between the Dynamic Entities
Chasing Pods was a unique event that brought together some of the country's most influential podcast creators and well-known personalities and would not have been possible without the partnership of Hubhopper, Amazon Music and Good Creator Co.
This dynamic trio provided everything from technical support to help ensure that the event went smoothly to amazing promotional materials and giveaways to make sure everyone had a great time.
Hubhopper drove the creative direction of the event, crafting an amazing experience for podcast fans and creators alike. Amazon Music provided a platform full of interactive tools to help keep everyone engaged, while Good Creator Co. offered up unique merchandise like caps and t-shirts that were sure to get everyone talking.
Lineup of Speakers at Chasing Pods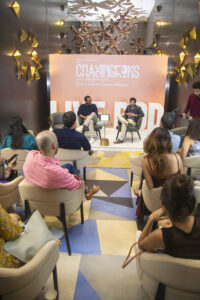 The "Podcast Live Session" was the centerpiece of the whole event, where some of the prominent podcast personalities shared their experiences and learnings with the audience. 
The live session was an excellent opportunity to learn from experienced podcasters and gain valuable insights into the industry. The speakers shared practical tips and advice for aspiring podcasters, and their stories were both inspiring and informative.
Among the many sessions happening during the meet, there was:
– All Indians Matter (Interview, News): Ashraf Engineer on how podcasts are shaking the news and information industry.
– Neha Dhupia X MissMalini (Lifestyle): The unfiltered celebrity podcast.
– Bound (Storytelling, History, Lore): Bound – Chadrima Das& Clyde sharing their experiences and learnings with the audience.
– MAED in India's The Lit Pickers (Society & Culture): Supriya Nair and Deepanjana Pal break down why we read and the evolution of reading.
– MAED in India's The Nerditorium (Comedy, Pop Culture): A banter-filled podcast hosted by Tejas and Jishnu on all things.
– IVM/Pratlipi's Simblified (Business and Self Development): Getting started with your content ideas: a simblification.
– Audible: Ashish Bagrecha on Koshish Podcast Season 2.
– Ep. Log Media's The Dread Indian: Christopher Lazarus treats you to a chilling live audio experience.
– OG RJs Interview: The evolution of audio with the first commercial RJs – Malini, Hrishi K, Mihir & Tarana.
– The Willpower Star (Inspirational, Business): Celebrity creator Mangesh Shinde interviews entrepreneurs and business owners on their journey from 0-100.
These voices united to bring forth a deeper understanding of our changing audio landscape and how podcasts can bridge the gap between creators and audiences. Hearing from these accomplished individuals was an inspiring experience, leaving participants with plenty to think about as they continued their podcasting journey.
Experiences of Different Podcasters From Chasing Pods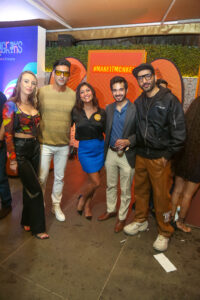 Have you ever wanted to know what it's like at India's largest podcasting event? Well, look no further! We had the pleasure of speaking with lots of different podcasters, and it was a great experience for them.
Creatives Gathering
It was amazing to see so many creative minds coming together in one place. The venue was buzzing with podcasters, journalists, writers, entrepreneurs, artists, and more! Therefore, everyone left feeling inspired and more passionate about podcasting as a result of such an encouraging atmosphere.
Networking & Collaboration
The networking opportunities were huge! Every corner at Chasing Pods had something new to discover — from maker spaces to learn more about audio equipment, to workshops discussing the Dos & Don'ts of Podcasting. Meeting people from all over the country helped open up new doors for collaborations on upcoming projects.
Celebrating Podcasts
Everyone present showed a lot of love for podcasts and each other. Each discussion panel brought with it a unique perspective and added value to the event. Everyone came together to celebrate their passion for podcasting!
Fun and Engaging Activities Organized at Chasing Pods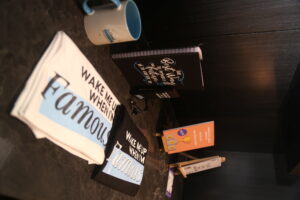 The day at Chasing Pods was full of interactive and engaging activities that kept the crowd in full swing. They had a fun Q&A session with Neha Dhupia, a renowned Bollywood actor. An interesting panel discussion followed with emerging podcasters from across India sharing their stories with the audience.
At the event, participants had the opportunity to engage in "Speed Pod," creating podcasts on the spot. Other activities included designing podcast covers and taking photos at our Mirror Photo booth.
There were many workshops as well for a better learning experience for the podcasters, some of them were:

– Start your podcast workshop: Anurag Malik on A-Z of podcasting, from initial idea to publishing and monetizing it.
– Aawaz's art of storytelling & horror workshop: Himanshu Rajput on creating Hindi horror audio content.
– Aawaz's art of creating humor audio content workshop: Amol Soni on creating Hindi humor audio content. 
To make sure everyone had a good time, those who finished 5 tasks received a FREE Hubhopper Pro account for 2 months. Those who finished all 9 activities were entered into the Amazon Alexas and Good Creator Co. giveaway!
Conclusion
Chasing Pods was a unique opportunity to find out that podcasting can shape the Indian creative economy. Participants gained valuable insights from podcasters and built networks with other professionals.
It was clear that the podcasting community has tremendous potential, especially in India. With the right investments, collaboration, and support, podcasting can become an important part of India's digital media landscape. We are proud to be part of the future of podcasting in India.
Join our community to stay up-to-date on podcasting news! Register yourself now, so that you don't miss out on such upcoming events.