Podcasting has become an immensely popular medium for sharing knowledge, stories, and entertainment. However, with over two million podcasts in existence today, it's crucial to employ effective promotion strategies to attract listeners and stand out from the crowd.
The key to getting listeners is promotion, promotion, promotion! Having a good idea for a podcast isn't enough – you need to know how to promote it so that potential listeners find out about it.
That's where Hubhopper comes in – in this blog post, we'll share with you the top strategies for getting more loyal listeners. So sit back and relax, and let us do the work for you!
Optimize Your Podcast for Search Engines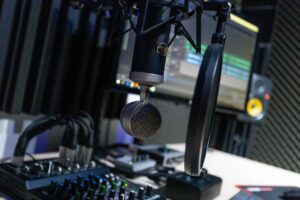 When it comes to podcasting, the first step to attracting loyal listeners is optimizing your podcast for search engines. This means making sure your podcast and all its associated content are properly configured and tagged so that people can easily find it when searching for related terms on the web.
Here are a few tips for getting your podcast noticed by search engines:
Use keywords in both your podcast name and episode titles

Make sure to include a complete description of your podcast in each episode

Include a link back to your website in each episode description

Utilize metadata tags such as categories, subtitle language codes, and other information whenever possible.

Ensure to use the English alphabet only. Even if your podcast is in another language.
These strategies will help ensure that search engines can crawl through and rank your content more effectively. And with more visibility, comes more loyal listeners!
Cross-Promote on Social Media Platforms
Social media is the perfect platform to market and promote your podcast. It's free, easily accessible, and, if used correctly, can help you reach many potential listeners.
When it comes to promoting your podcast on social media platforms, there are a few tips to keep in mind:
Create inspiring visuals that are eye-catching and convey the message of what your podcast is all about. You can use templates offered by various websites like Canva (

https://www.canva.com/

) and Adobe Spark (

https://www.adobe.com/express/

).

Post regularly on popular social media platforms like Instagram, Facebook, and Twitter.

Utilize hashtags to reach more people who may be interested in what you're talking about.

Engage with your audience by replying to comments and creating polls or surveys for them to give feedback on the episodes or topics discussed.

Cross-promote with fellow podcasters or influencers in your niche.

If possible, create a website for your podcast where people can go for more information on upcoming episodes or previous content.
By following these tips and putting effort into creating compelling visuals and content for social media pages, you can start building a loyal listener base who will come back episode after episode!
Start a Podcast Website and Build an Email List
When you're looking to promote your podcast, one of the most effective strategies is to create a website and build an email list—an invaluable resource that you can use to inform your listeners about upcoming episodes, provide exclusive content, answer questions, and more.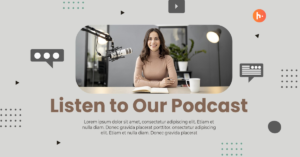 Podcast Website
If you create a website for your podcast, you can create an area for your listeners that is dedicated solely to the show. It's also an opportunity to let them know what they can expect from each episode and keep them engaged with the show with exclusive offers and bonuses.
Hubhopper helps you create a website in a few minutes! Here's how you can generate your website: 
Go to your Hubhopper Studio dashboard and click on 'Generate Website'. 

Pick a unique subdomain for your website. Choose carefully as

you won't be able to change it

once the website is published. 

Next, pick a profile name. You can either use the name you entered while signing up on Hubhopper Studio or you can create a new name. 

Now, choose all the podcasts that you want to display on your website. 

Add a profile picture for your website with at least 1400×1400 px. 

Next, add a description of you and what your podcasts are about in at least 140 words. 

Lastly, add your social media handles such as Email, Facebook, Instagram, and Twitter so that your listeners can connect with you.
Building an Email list
Building an email list is another great way to ensure that existing listeners stay engaged with your podcast. By collecting their emails at various points throughout their journey with your show, you can create targeted campaigns that are tailored specifically for them. This helps to ensure that your message resonates with each individual listener and encourages them to become return viewers. Mailchimp (https://mailchimp.com/) and Sendinblue (www.sendinblue.com) provide customizable email templates, drag-and-drop editors, and automation features to help you design and manage your email campaigns.
Collaborate With Other Podcasters
Networking with other podcasters is one of the most effective ways to promote your podcast. When you collaborate with other podcasters, you can split the promotion and distribution methods, leading to greater success.
Collaborating with other podcasts provides several benefits:
Pooling resources
You can pool resources with other creators–such as equipment or software–saving time and money.
Joining forces
You can increase your reach, followers, and subscribers by joining forces with another podcast.
Brainstorming ideas
Having like-minded industry peers is great for brainstorming new strategies to grow your audience.
Exchange ideas
By exchanging ideas and advice you can learn from each other's experiences when it comes to promoting a podcast.
With Hubhopper's helpful analytics tools, you can easily track how many engagements you receive from collaborating with another podcaster and measure its effectiveness in growing your listener base. So why not give it a try?
Engage With Your Listeners and Build Community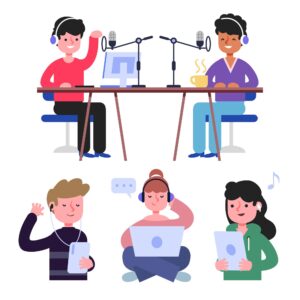 Nothing is more important than engaging with your listeners and building a community around your podcast. Engaging your listeners in conversations and discussions about your podcast's topics opens up channels for organic advertising and listenership growth.
Social media is also a great platform for talking about upcoming episodes, sharing snippets or teasers from the show, sharing behind-the-scenes content, and interacting with other podcasters for cross-promotional opportunities. 
Additionally, follow followers of similar podcasts that could have an interest in your content, interact and engage with them directly on Twitter or Instagram by liking their posts, and commenting.
Spotify for Podcasters allows you to add Q&A and Polls to your episode description which will allow users to ask questions and you can gain insights into the perspective of your listeners, how they are perceiving your podcast, and what you can improve. 
You can claim your podcast on Spotify for Podcasters by following the below steps:
1) Visit Spotify for Podcasters website and Select "Somewhere else". 
2) Add your RSS feed and click next.
3) Add the code you would have received in your email.
4) Fill in your podcast's information. Note that you can't change the information later and then click submit.
5) You will get redirected to your dashboard, visit the 'Interact' tab.
6) Add in your questions and polls that you would like your listeners to answer, and you can evaluate this information accordingly. 
Through Hubhopper's Audiogram, you can share the best segments of your podcast among potential listeners from the web while driving increased engagement & loyalty among existing listeners.
Consider Podcast Advertising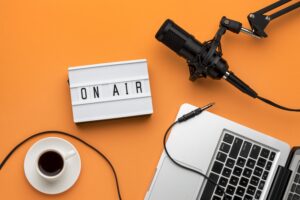 Whether you're a new or established podcaster, you can use podcast advertising and sponsorship to grow your listener base and gain loyal listeners. Here are tips to get you started:
Ads
Consider running ads to get the word out about your podcast. If you're willing to invest in paid advertising, make sure to target potential listeners who will be interested in your content. Does your podcast revolve around business and finance? Target audience: people interested in economic and finance-related topics.
Partnerships
Partner with other podcasts or businesses that offer services related to yours. Doing so will help you reach a wider audience, as well as give you an opportunity to cross-promote each other's podcasts.
Conclusion
By using these podcast promotion techniques, you can attract new listeners and retain the loyalty of your existing audience. Once you master the basics of podcast promotion, you can make waves and gain that all-important traction. So, what are you waiting for? Get out there and get podcasting! Hubhopper is a great platform for hosting and distributing podcasts to more than 35 different platforms without hassle.