Picking a name for your upcoming podcast can be exceptionally challenging, especially if you are confused about whether it should be short, easy to remember, enticing enough, or all of it to drive people to listen to your podcast. 
There are a lot of podcast name generators out there, however, it can be hard to decide on the ideal name for your podcast which pulls your target audience and communicates to people what your podcast is about, however, it is not as strenuous as it seems. 
We've got you! Dive in for some tips and tricks for choosing an engaging name for your podcast.
Firstly, why is a
podcast name
so important?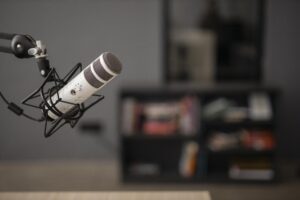 As it is said, the first impression is the last, the same goes for the name of a podcast. After reading the name and the description attached to the podcast, people usually make an impression of what it will be about, and what they can expect from it. The name of your podcast can make or break its success, as it will be the first thing that potential listeners see and hear. 
Hence, it is extremely crucial to pick a name that conveys what the audience can expect from the podcast, sets the tone for your brand, and appeals to your target audience. Looking for some enticing podcast name ideas? Keep in mind, that a good name should be memorable, attention-grabbing, and relevant to your podcast's content.
The ultimate intent of brainstorming your podcast name must be to make people stop scrolling and get them to listen to the podcast. 
Points to consider while choosing your podcast name
Define your niche and target audience
Identifying and stating your audience persona is the first and most important step of the whole process. Ask yourself these questions:
Who is my target audience? What are their interests and preferences?

What do they want to listen to? 

How can I attract more people who might be interested in my content?
Considering your target audience while determining the name of your podcast will help you connect and engage with your audience and help you appeal to them in a much more effective way. You should also consider the tone and style of your podcast.
Make it captivating and memorable
Keeping the podcast name short, succinct, and noticeable is the key to a successful podcast. It should be something that people can easily remember and share with others. This is not the time to be ambiguous and make the title too complicated. Try using alliteration or rhyming to make the name more catchy and fun. Keep in mind your audience persona, niche, podcast content, and the tone of your brand to make it more enduring.
Make sure it's pertinent
Think about your podcast's main topic or theme, and brand name and brainstorm relevant keywords that describe it. For example, if you have a podcast about personal finance, you might brainstorm words like money, budgeting, investing, etc. Write down as many keywords as you can think of, and then start combining them in different ways to create potential names. You could use descriptive words or phrases that are relevant to your podcast's niche.
Consider branding
Your podcast name should be easy to remember, easy to associate with your brand, and must communicate the tone of your brand. If you have a website or social media account, make sure your podcast name aligns with your branding. This will help your audience find your podcasts without any hindrances. You could also use name generators for your podcast, as they will help you pick a podcast name that is relevant to your brand.
Ponder SEO tactics
Search engine optimization (SEO) can be important for helping people find your podcast. Make sure your podcast name includes relevant keywords that people might search for. Consider that your podcast name must include keywords that are relevant to your podcast so that if people search the keywords related to your podcast, they find ease in it rather than struggling with it.
Assess your ideas and options
Once you've come up with a few potential names, test them out with friends, family, or even social media followers to get feedback. Ask them which name they prefer and why, you might receive some valuable feedback, and you can use the insights for improving your podcast name. Remember, that good podcasts require different options to be thought of and the best podcast name must be chosen among all.
Abstain legal complications
Before finalizing your podcast name, do research to make sure that it is not already taken or trademarked. You don't want to risk a lawsuit or have to change your name later on. Choose a name that is unique and is not owned by anyone to avoid confusion among the audience.
Pitfalls to avoid when selecting a name for your podcast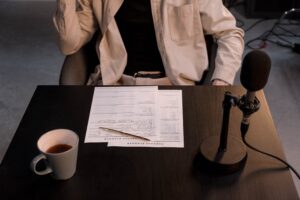 Creating a podcast can be a rewarding and exciting experience, but naming it can be a challenge. With the increasing popularity of podcasts, it's important to choose a memorable and effective name for your podcast to stand out in a crowded market. However, there are several common mistakes to avoid when choosing a podcast name:
Going for a name that is too restrictive in scope
While it's important to have a specific focus for your podcast, choosing a name that's too narrow in scope can limit your potential audience. For example, if you're creating a podcast about the history of pottery, choosing a name like "Pottery Through the Ages" might be too specific. Instead, try to choose a name that's broader in scope, but still gives listeners an idea of what your podcast is about. This will help you niche down your audience in a better way and target the audience you are looking for.
Opting for a typical name
One of the most common mistakes when choosing a podcast name is to choose a name that's too generic or descriptive. For example, "The Sports Podcast" or "The News Podcast". These names don't differentiate your podcast from others in the same genre and can make it difficult for listeners to find you in a search. Instead, try to choose a name that's unique, memorable, stands out from the crowd, and at the same time differentiates your podcast from other podcasts.
Neglecting the research part
Before settling on a podcast name, it's important to do your research to make sure the name isn't already in use by another podcast. Doing a simple Google search or checking popular podcast platforms like Apple Podcasts or Spotify can help you avoid potential legal issues and confusion with other podcasts.
Using humor that feels out of place in the podcast
While puns and humor can be effective in creating a memorable name, it's important to make sure they're appropriate for your podcast. If you're producing a serious news or educational podcast, a punny or humorous name may not be the best choice. Conversely, if your podcast is meant to be lighthearted and fun, a serious or descriptive name might not be the best fit.
Conclusion
In conclusion, choosing a podcast name can be a daunting task, but by following these tips and avoiding these mistakes, you can come up with a name that is memorable, unique, straightforward, and accurately represents the content of your podcast.  Take the time to brainstorm and do your research, understand your audience and your niche, and don't be afraid to get feedback from others. A well-thought-out name can give your podcast the boost it needs to get started on the right foot!