For the past year, we've been hard at work to make podcasting on the go 'a hassle-free and fun experience' for our podcasters.
The new upgraded Hubhopper mobile app helps creators like yourself to seamlessly create, host & distribute a podcast all the while discovering the best of podcast shows and enjoying a premium listening experience in a single place, all for free.
No more constant switching from 'listening on the Hubhopper app' to 'creating in the Hubhopper Studio app'. This bigger and better version of the Hubhopper mobile app is your one-stop destination for everything podcast related. 
There's a lot more to the new Hubhopper mobile app. Join us as we unpack all of its amazing features.
What to expect in the newly upgraded Hubhopper mobile app
The newly upgraded Hubhopper app is designed to be your easiest way to discover, create and distribute your podcast, letting you carry the podcasting world in your pocket. 
The new upgrade comes with a bunch of exciting features that will support you in creating more engaging content and enjoying podcasts more intimately. Read on to discover the newest features in the upgraded Hubhopper app that will help you level up your podcasting game:
Premium & customized listening experience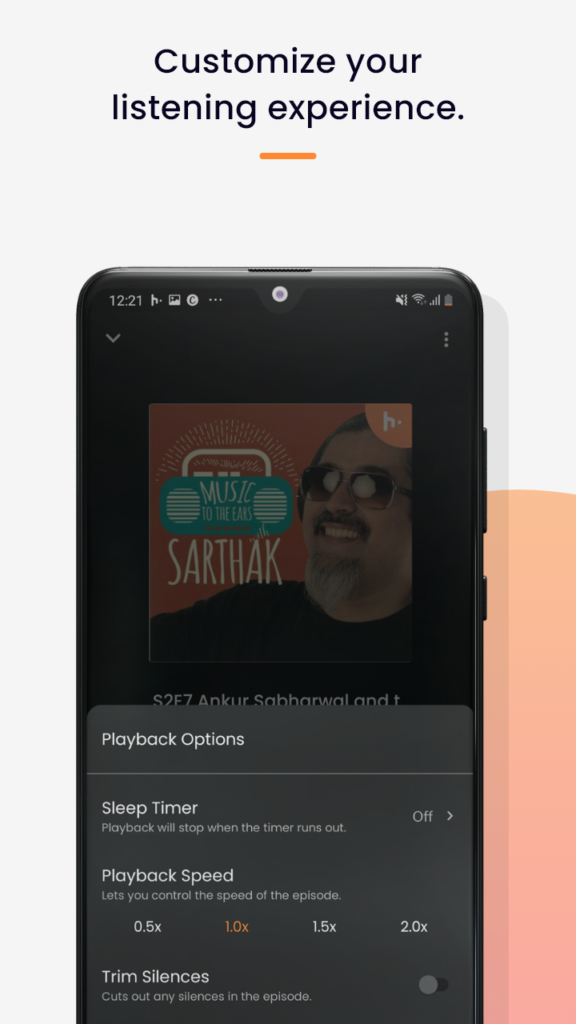 With the new upgraded app, you'll not merely tune in and out of a podcast show but rather enjoy a premium listening experience. Head to the 'Discover' tab on the left to tune into over 1 Million hours of audio content.
Our set of newest playback features that will allow you to customize your podcast listening, all for free. Subscribe to top podcast shows & turn on the notifications to keep up with the latest episodes. You can also reach out to your favorite creators within the app. By connecting with artists behind the mic, podcasts become more real and intimate for listeners.
Download episodes of your choice and enjoy the same premium listening experience offline as well. Enjoy customized listening by adjusting the audio speed according to your preference with playback speed feature.
Record anytime, anywhere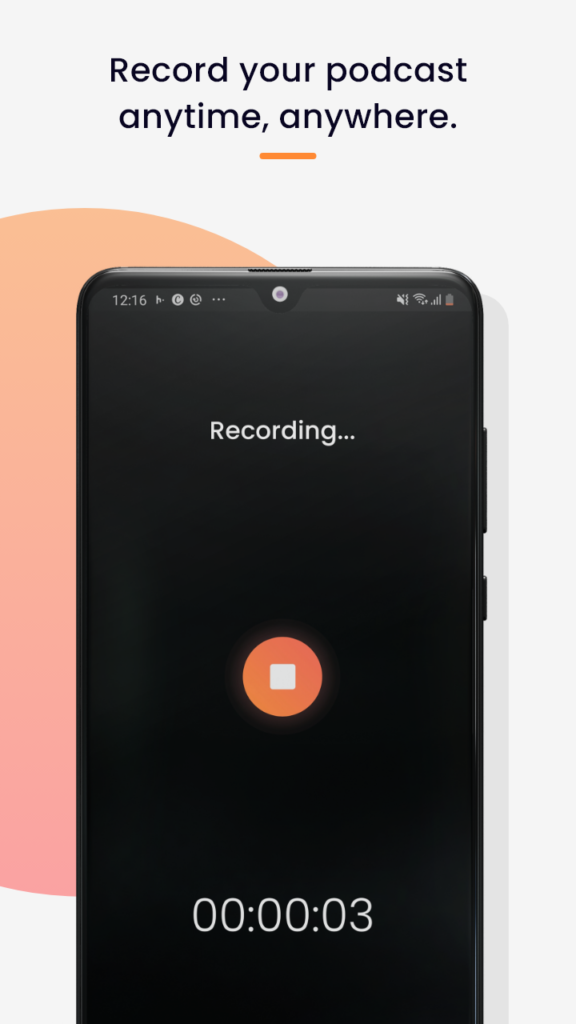 You can now record your podcast on the go! Simply hit on the record button and it will start recording as per your microphone setting. You will find your recordings in your account library section. That way you have all your recorded podcast content organized in one place.
The in-app account audio library allows you the flexibility to record in segments as per your requirement which can be then edited into a single audio track.
Easy-to-use audio editor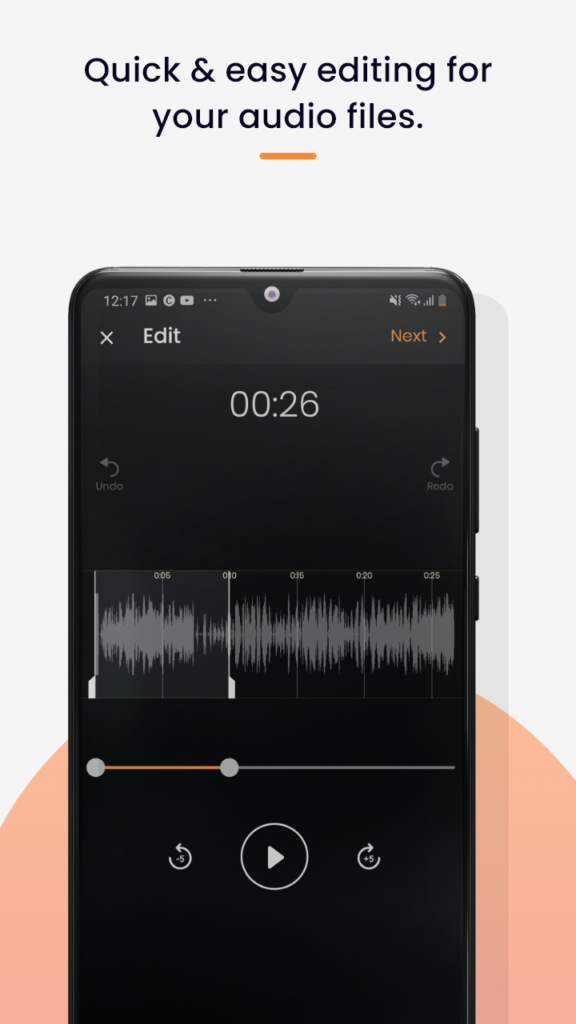 Easily edit and produce a professional-sounding podcast using just your mobile phone. Visualize, edit, and arrange your audio segments. Add background tracks, transitions, and sound effects from our built-in audio library.
Audio visualization editing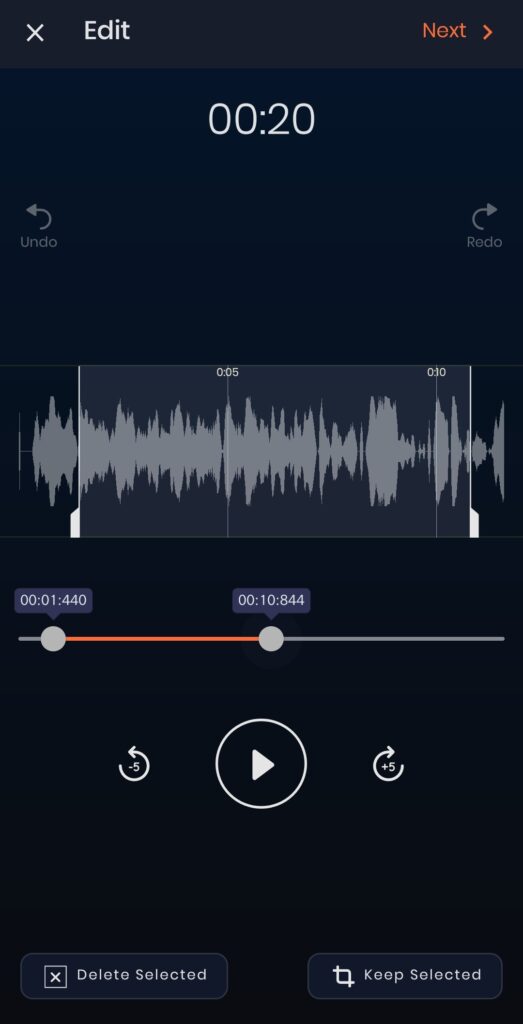 It is as simple as dragging and dropping your desired audio segments and arranging them, to construct your episode content. You can also select which part of the audio track you wish to keep or remove by simply dragging the timeline hands to define the space you wish to work on. Hit the 'delete selected' to delete the defined workspace or hit the 'keep selected' to keep the defined workspace and delete the rest. You can also undo and redo your editing in the editor with buttons for the same.
Built-in audio library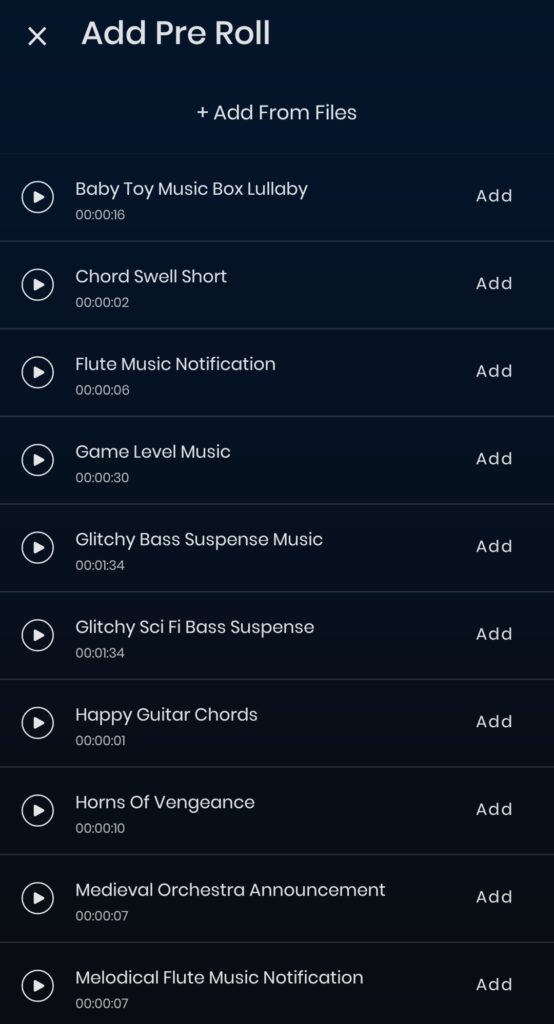 You can easily add 'pre-roll' ( introductory music) and 'post roll' (concluding music) to your podcast episode. These audio segments are basically to cue the start and the end of the show. Simply click on the '+' button on your mobile app to go to the library and pick the segments/music you want to add. You can also edit your selected music as per your requirement.
Built-in sound effects library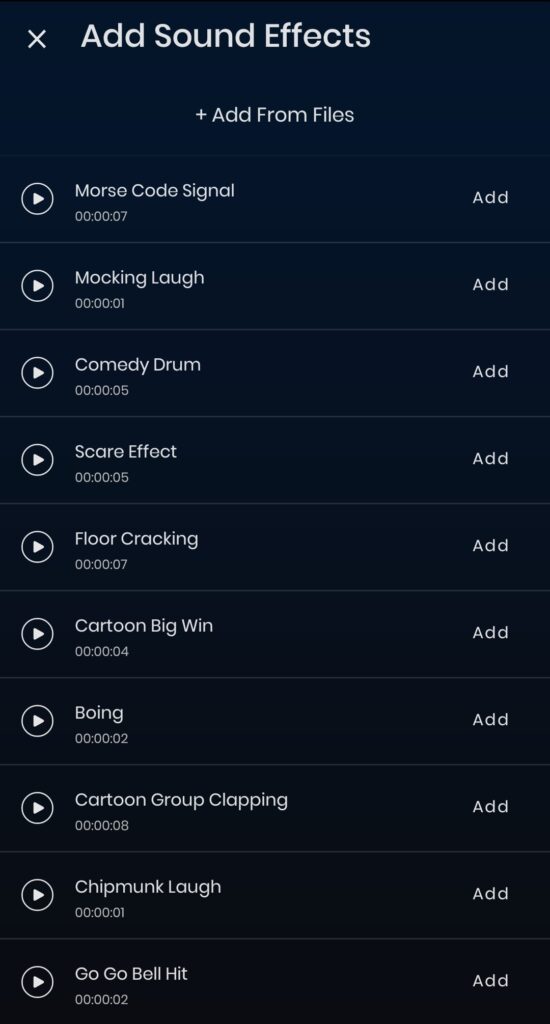 To make your podcast more interesting, you can look at adding various sound effects to your episode from the in-built sound effects library. These short sound effects can make your episode more immersive and engaging for the listeners. You can also edit your selected sound effect as per your requirement.
Podcast data analytics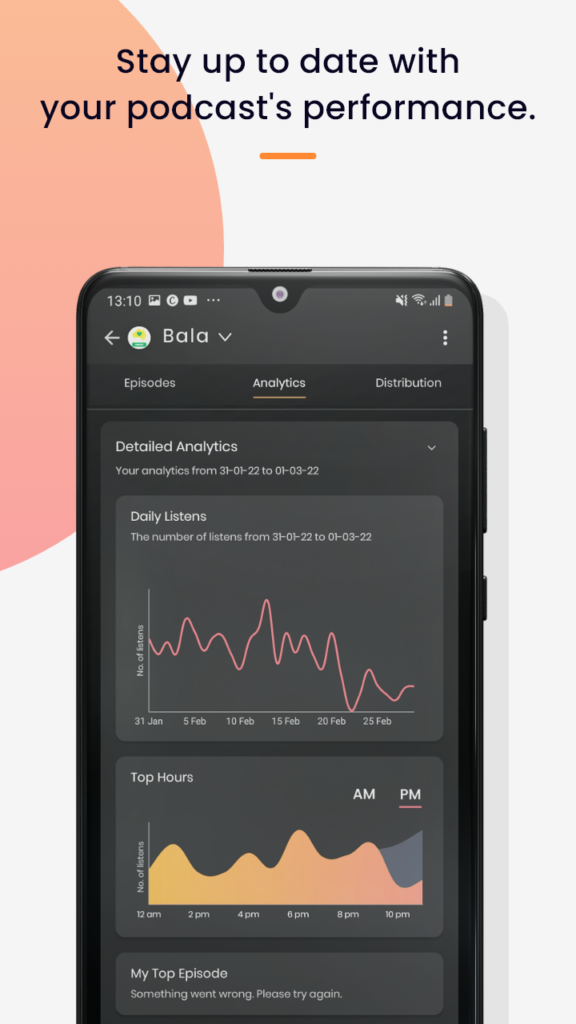 View your podcast data analytics straight from your mobile phone. The mobile analytical dashboard provides detailed data like episode performance, demographics, and Spotify data. Allowing you to keep track of the performance of your podcast easily. You can view the following data points on your mobile app:
Daily listens

Episode wise listens

Hourly listens

Location wise listens

Spotify Analytics
You can also go back to the past analytics by selecting the number of days you want to fetch analytics from.
Podcast distribution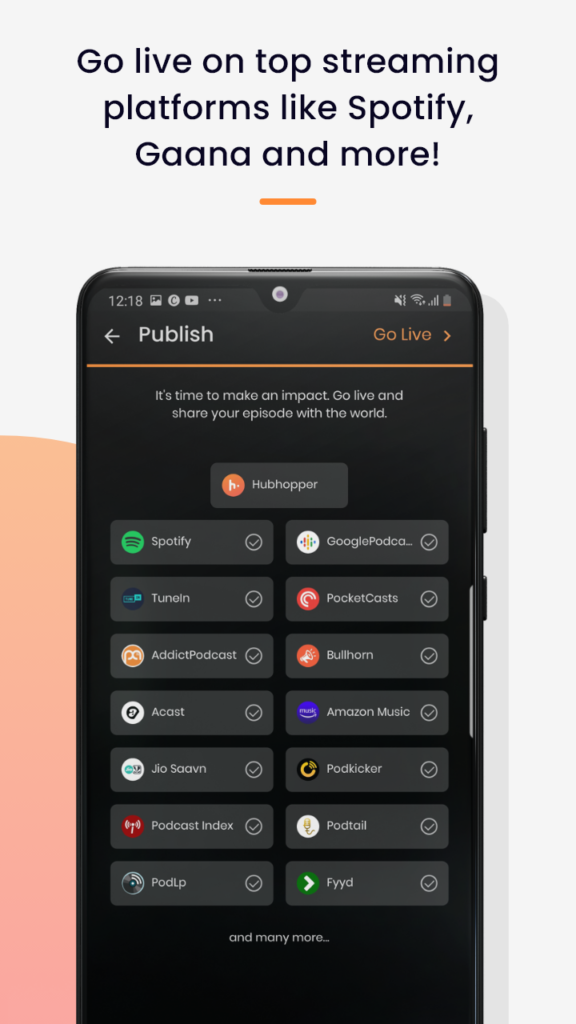 You can distribute and manage your podcast across India's top podcast listening platforms straight from your mobile phone. You can find the Distribution section in your dashboard. Simply select on the platforms you wish to distribute your podcast on and it will be automatically distributed to those platforms. 
Easy podcast management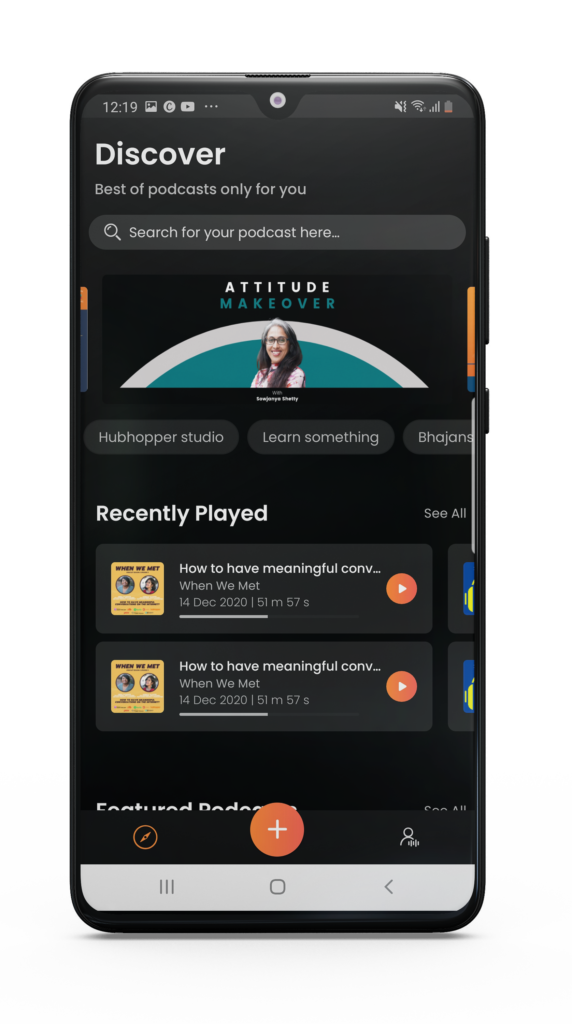 The USP of the new Hubhopper mobile app upgrade is that you get the best of both worlds under one roof. That means you'll get to enjoy creating and listening to podcasts under one umbrella.
On the left hand side, you'll find the Hubhopper podcast directory where you can tune into podcast and enjoy a premium listening experience. On the right hand side, you'll find the creator's dashboard, 'My Hub', where you can monitor your listening and creation activities.
The new interface is designed in a simple and easy-to-navigate manner so that you can manage both sides together. Whether you want to host, create and distribute your podcast to the world or you want to tune into the top podcast shows, Hubhopper is your one-stop destination. 
Download the new Hubhopper app
We hope that this bigger and better version of the Hubhopper mobile app amplifies your podcast creation and listening experience. You can download the mobile app from the Google Play Store for free to tune into shows and manage your podcast from anywhere, at any time with just your mobile phone. 
Happy podcasting!