There's been a lot of buzz about Spotify listenership reaching a new height this year. According to eMarketer's forecast, 28.2 million people in the US, will listen to top podcasts on Spotify at least monthly and 28.0 million will listen to podcasts via Apple Podcasts.
Spotify began more than a decade ago but its arrival in India was late. Even though the platform came only two years ago, it is one of the most famous go-to music and podcast streaming platforms in India. Especially during the pandemic, people discovered more and more podcasts on Spotify.
Indian market is very diverse when it comes to the consumption of audio content. Shows ranging from devotional, fitness, horror, crime to comedy, science, news, all have been consumed by people of different age groups and in different languages. With such a huge listenership, your podcast can gain a huge loyal audience on Spotify.
With this easy step-by-step guide on how to create a podcast on Spotify, we will help you in submitting your podcast to Spotify. You will learn about Spotify's requirements and the submitting process, with images of the whole procedure.
Step 1: Create Your RSS Feed Link
To submit your podcast to the Spotify directory, you will have to first create your podcast RSS feed link. If you haven't created one yet, you can create your RSS feed link on Hubhopper Studio for free.

Step 2: Meet the Spotify Requirements
Like every other platform, Spotify has specific requirements for Data format and Data Elements that podcasters must meet to get their podcasts in the Spotify directory. Have a look at the list below and make sure that your podcast meets all of the requirements before uploading it to Spotify.
The RSS feed must include a title, cover art, and other relevant information for at least 1 episode.

Spotify currently supports ISO/IEC 11172-3 MPEG-1 Part 3 (MP3) audio files with bit rates between 96 and 320 Kbps.

The maximum length of the audio file must be 200 MB i.e, around 83 minutes @320 Kbps.

Podcast images need to be of 1:1 ratio and preferably in high resolution ( 1400 x 1400 px ).

Image format should be either TIFF, PNG or JPEG (in order of preference).

With the exception of podcast and episode description, your customer facing element should be within 20 characters so that it doesn't get cut at the point of the maximum length (appearing as "…").

Special HTML characters should be avoided (e.g. never use: News & Politics, instead use: News & Politics).

Some HTML tags, e.g. , are not allowed and will be removed by Spotify before publication.
Step 3: Login Into Spotify Account
To submit your podcast to Spotify's directory, you will have to log in to your Spotify Account.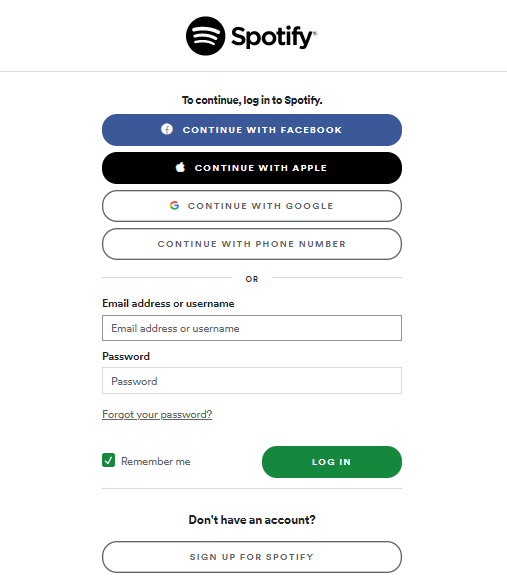 If you don't have an account on Spotify then you will have to create one. Just add your email, password, name, and date of birth and submit the details. You have successfully created your Spotify Account.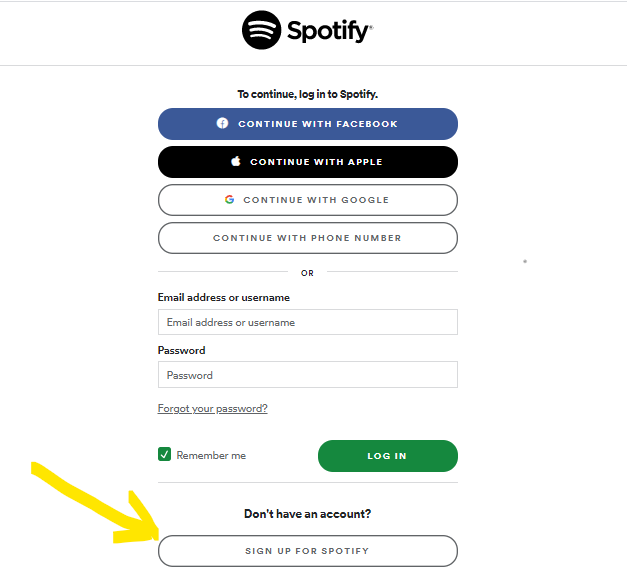 Step 4: Accept Terms and Conditions
After you login into your Spotify account, you'll be directed to a new page that will get you started on your podcast submission process.

After you click on "Get Started", you'll be directed to the terms and conditions of Spotify. Click on "I Accept".

Step 5: Enter RSS Feed Link
The next step is an important one in the entire podcast submission process i.e. adding your RSS feed link to the directory. RSS feed contains all the information about your podcast shows and episodes like title, cover art, description and more.
You can get the RSS feed link from your podcast hosting platform or create one for free on Hubhopper Studio. RSS feed gets updated whenever you make any changes like adding a new episode. The directories monitor the link and automatically share the updated information.
To get the RSS feed link, head over to your podcast hosting provider. The link is usually in the dashboard. Once you get the link, enter it in the specified place and click on "Next".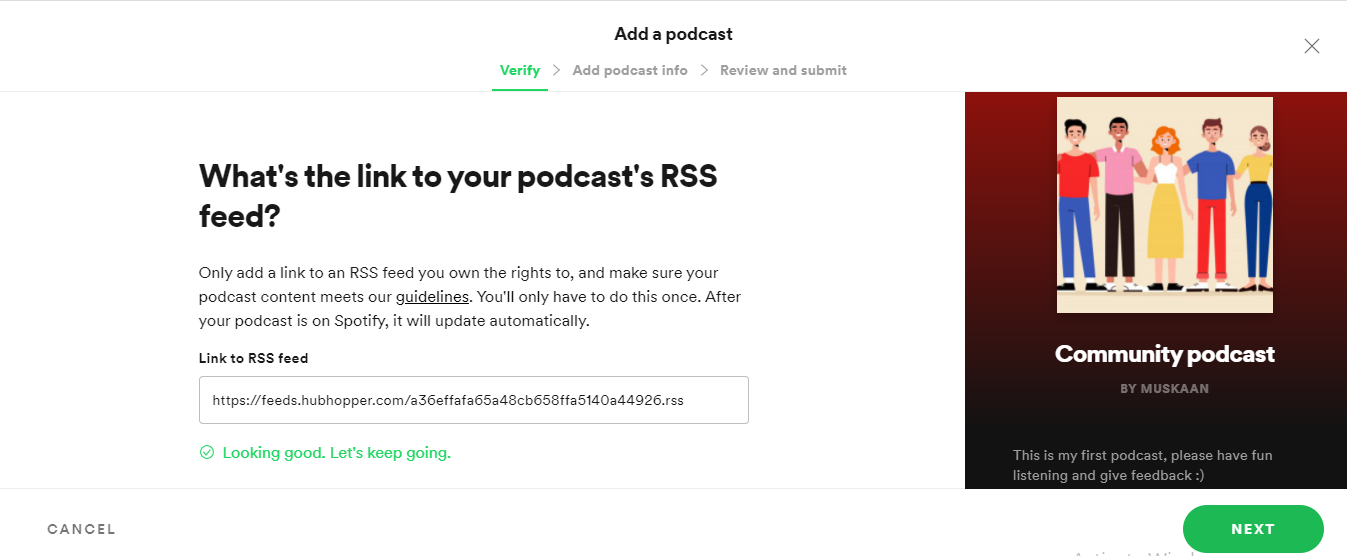 Step 6: Verify That You Own The Podcast
Once you have added the RSS feed link, Spotify will ask you to verify that you own the podcast. An 8-digit code will be sent to your email that is associated with your RSS feed.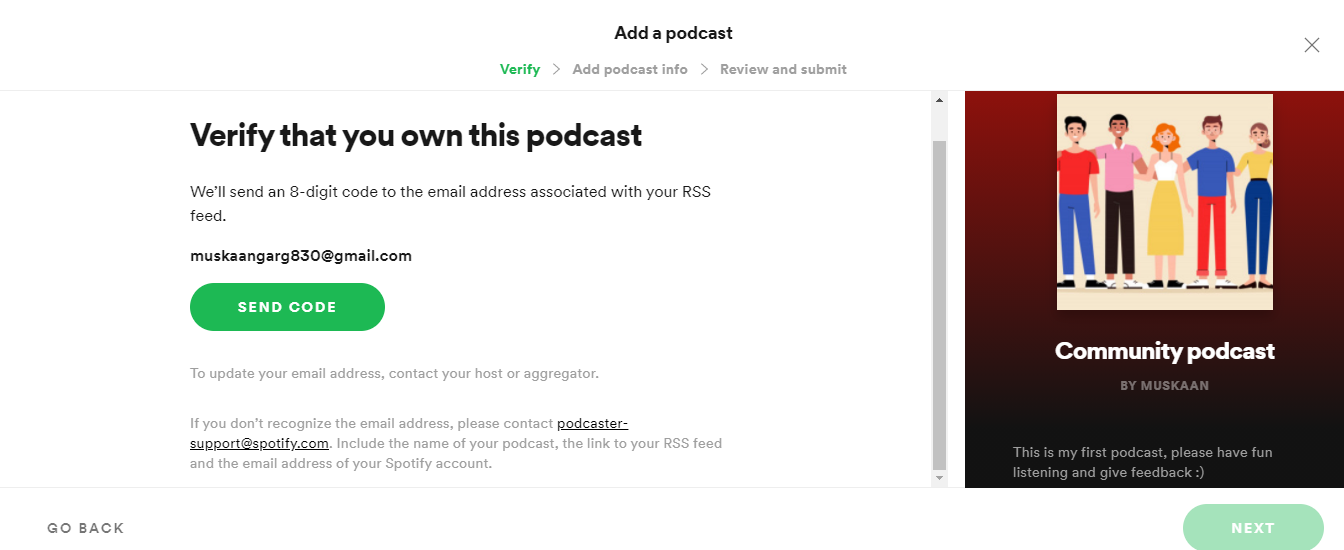 Head over to your email inbox to get the 8-digit code. Remember that the code will expire in an hour. Enter the code into the specified space and hit "Next".
If you miss the chance of entering the code within an hour, you can always resend the code.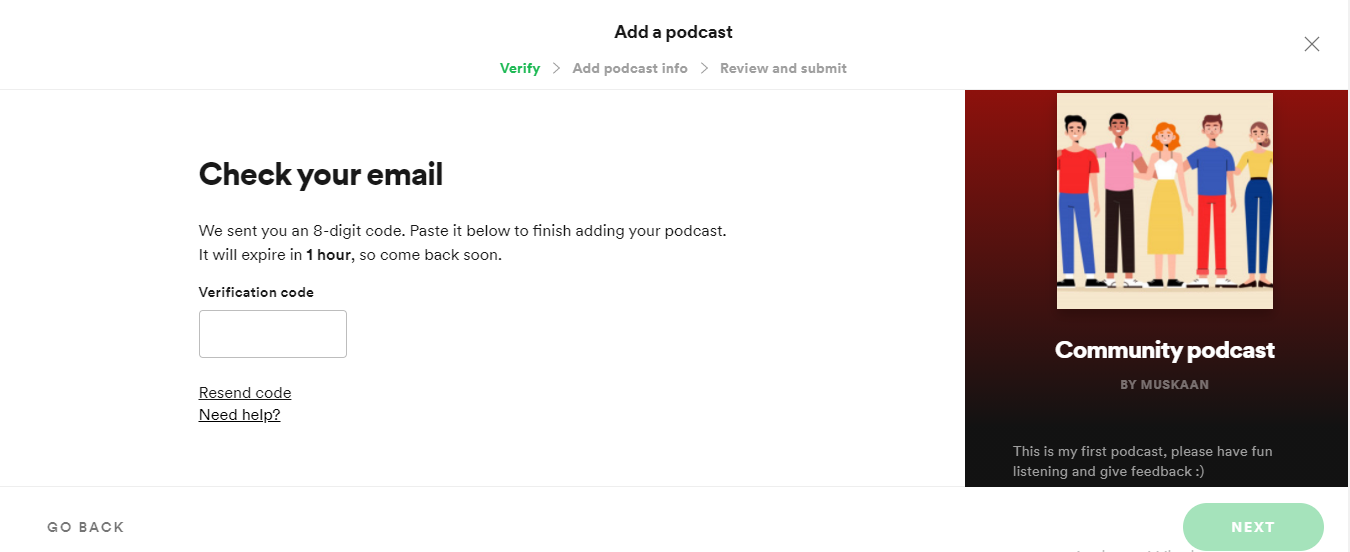 Step 7: Enter, Review, and Submit Podcast Details
Next, you will be required to add some details of your podcast like country, primary language, and your hosting provider. You will also have to add primary and sub categories (you can add up to 3 sub-categories). Once you have entered all the details, click submit.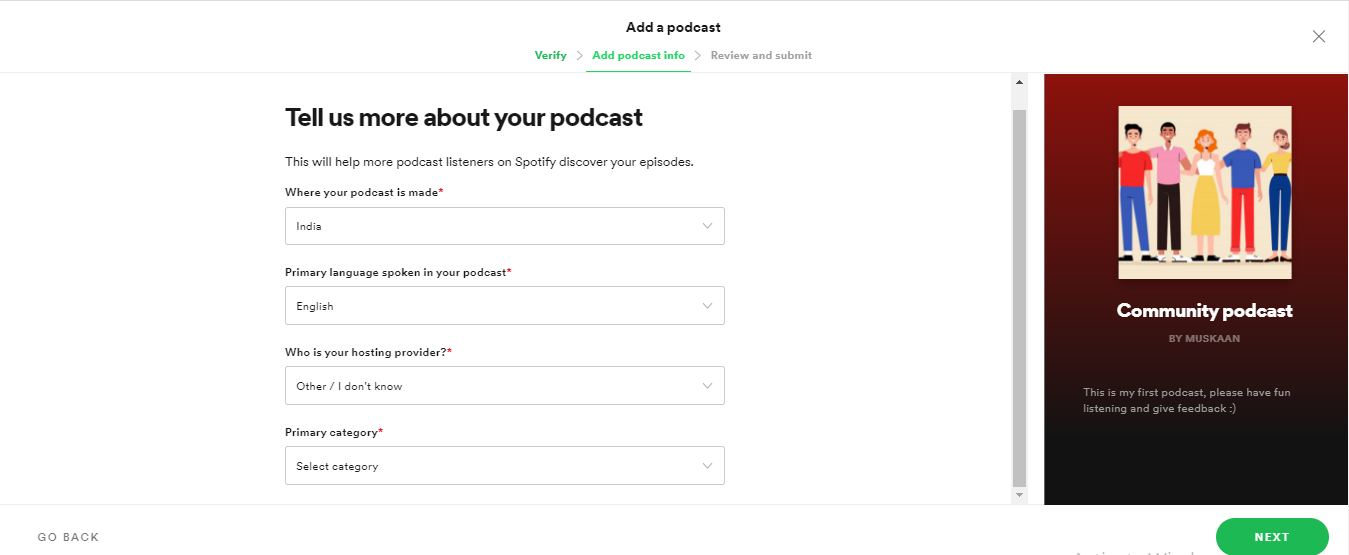 Spotify will ask you to review all the details that you have submitted. If you notice any error in the details. you can change it by clicking on the "Go Back" button. Go over the details a second time and make sure there are no mistakes as you won't be able to change them once you click on the "Submit" button.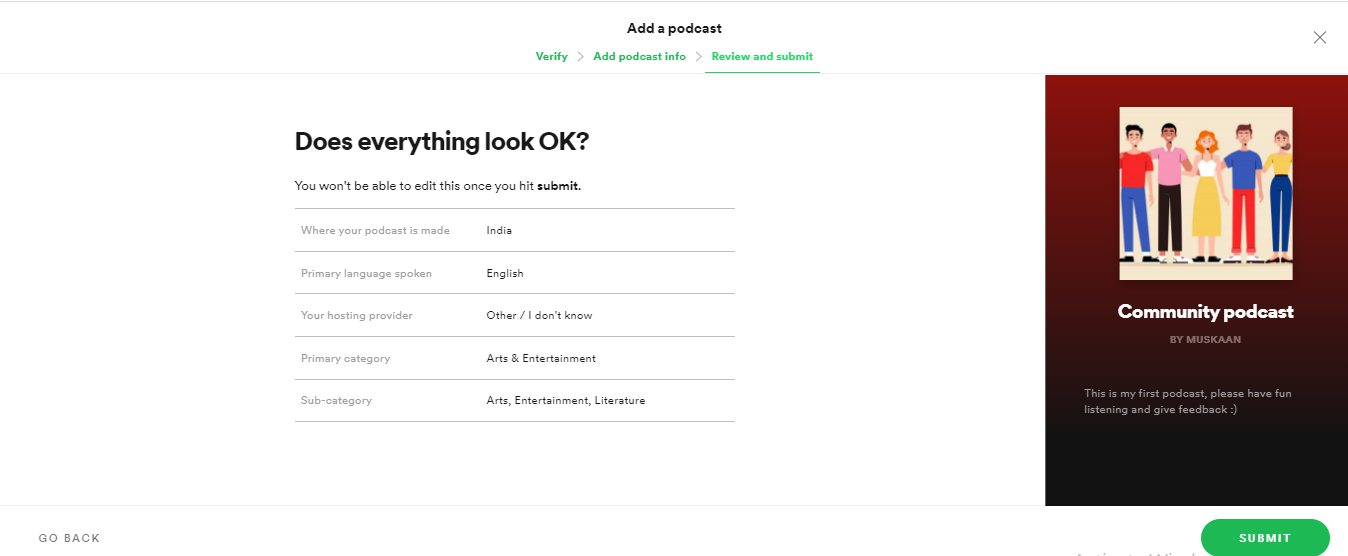 Once you have submitted the details, Spotify will confirm your submission in the next window. Now your podcast is successfully on Spotify. It might take a few hours for your podcast to show up on Spotify. Once your podcast is ready, you can copy the link provided at the bottom and share it with people.

Submit Your Podcast to Spotify With Hubhopper Studio
Until now, we showed you the process of manually distributing your podcast to Spotify. But if you create your podcast on Hubhopper Studio, we'll do the job for you. We have made it extremely easy for creators to get their podcast out on other platforms.
All you have to do is publish your podcast live. You will be directed to a window where you'll see different distribution platforms. Select "Spotify" and then click on "Publish". Hubhopper Studio will send your RSS feed to Spotify for review. Once Spotify approves your podcast, it'll appear on their platform with all your podcast details.